Scenic Eye Care is a full-service optometry clinic locally-owned by Dr. Solomon Gould, O.D., M.B.A. We have been established for over 40 years and enjoy providing optical services and products, along with great patient care to St. Paul, and the surrounding communities.
Our conveniently located eye care facility is proudly serving patients of all ages throughout the Twin Cities. The professional and friendly staff of Scenic Eye Care provides personalized service to meet the specific vision needs of each individual patient.
What our patients are saying
Great amazing and very personable. The staff are wonderful and the place is great. Highly recommend to anyone needing eye exam and or glasses.
Tammie C.
Dr. Solomon Gould, O.D., MBA.
Optometrist
Dr. Gould is a devoted optometrist with a sincere passion for caring for individuals of all ages. Dr. Gould attended Luther College in Decorah, Iowa where he triple majored in Biology, Chemistry and Spanish. Following his undergraduate training, Dr. Gould attended the New England College of Optometry in Boston, Massachusetts where he received a doctorate in Optometry. Dr. Gould has since obtained a Masters in Business Administration from Southern New Hampshire University.
Dr. Gould has extensive training and expertise in the treatment of ocular disease, surgical co-management, and all forms of vision correction. His knowledge and personable approach with each patient sets him apart from other optometrists.
Dr. Gould is fluent in Spanish and is currently delving into other languages including Mandarin Chinese, French, and Russian. During his spare time, Dr. Gould enjoys spending time with his family, travel, and being out on the many wonderful lakes of Minnesota.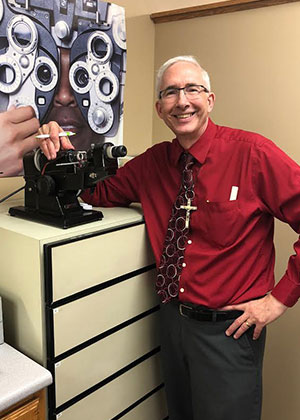 Michael Zappa
Certified Optician
Mike is a certified optician and has been with Scenic Eye Care for 32 years. He is an expert at fitting and dispensing eyeglasses for patients.
We offer a wide selection of fashion frames and the newest technology in lenses. Mike will assist you in selecting the best eyewear available.
After Mike graduated from Alexander Ramsey High School, Roseville, MN, in 1970; after receiving his associate of arts degree in graphic arts from St. Paul Technical-Vocational Institute in 1971; after three years in the Army working as an optical lab technician; after earning another associate of arts degree, this time in optical technology, from North Hennepin Technical-Vocational Institute; after a forty-year career with Scenic Eye Care during which he has been blessed with his wonderful bride, six successful children, and a multitude of unforgettable experiences.
When asked about Mike's philosophy of life, he replies that he tries to love God and show that love by treating people like people, not customers. Mike enjoys prayer time, reading, drawing, and finding creative solutions to situations and problems that people bring to him. Other interests include inventing games, and whenever he sees a need, he tries to find a creative solution to the problem.
Heather Parkin
Patient Care Coordinator and Receptionist
Heather Parkin is Scenic Eye Care's Rockstar Patient Care Coordinator and Receptionist. Heather graduated from Park High School in Cottage Grove in 2002. Following her high school graduation, Heather took some time to start a family. Heather is now blessed with her husband Sean and three wonderful children including Aiden, Jackson and Ethan.
In 2016, Heather graduated from Rasmussen College with a Certification in Medical Administration. She has since begun an additional program at Rasmussen to become certified in Medical Billing and Coding. Being the first point of contact at Scenic Eye Care is truly her honor. Heather takes pride in ensuring that all patients have an optimal experience.
Heather is a fun, outgoing person who enjoys interacting with people. When not rocking it at Scenic Eye Care, Heather enjoys traveling, being in or near the ocean, going on road trips, and barbequing every chance she gets.